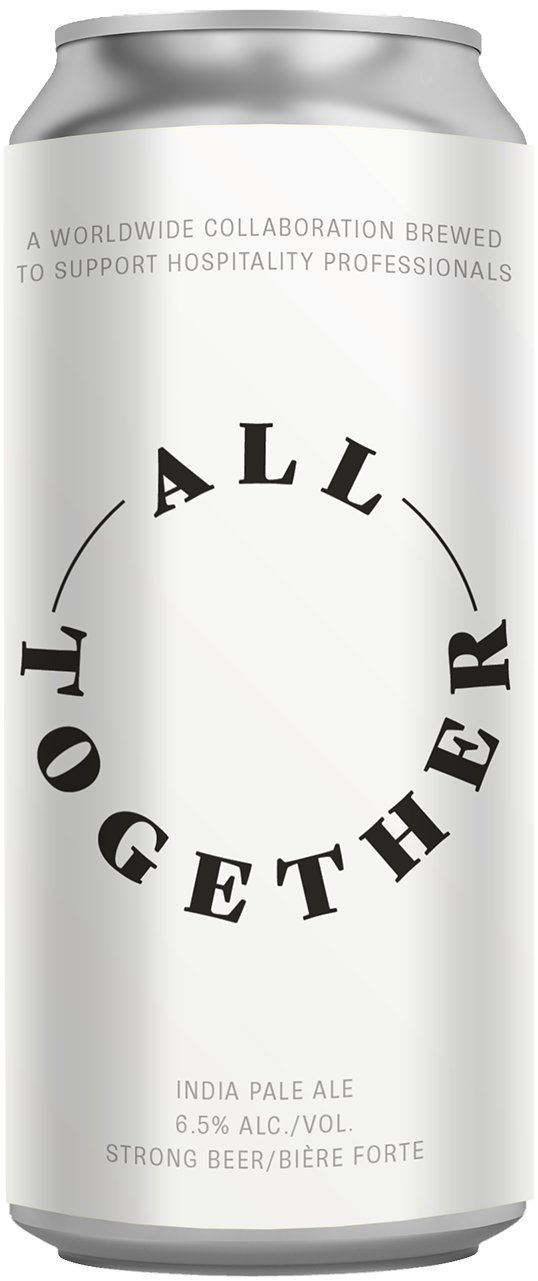 We have teamed up with Great Little Box Company to provide you with this worldwide collab. Partial proceeds from each 4 pack sold will be donated to the BC Hospitality Foundation. A 6.5% IPA dry-hopped with Citra, Simcoe, Mosaic and Cascade.
Dear breweries of the world,
There is an inextricable link that binds together everyone in the hospitality industry. Brewers, servers, bartenders, bussers, dishwashers, GMs, buyers, chefs, owners—we are all in this together. In this industry, when one of us struggles, the rest of us pick them up. It's baked into who we are.
All Together is a worldwide, open-ended beer collaboration created to raise support for the industry we love so much. It's an effort to raise awareness and provide relief, even in the smallest way, to those who are struggling. We're inviting any brewer, from any corner of the planet to participate. The recipe is open source, the artwork is public, and the name is yours to use. The goal is to provide you with the tools to make the beer at the lowest possible cost.
We ask that a portion of the proceeds go to supporting hospitality professionals in your community. The rest should go to keeping you in business to weather this storm. For us, proceeds will go to the Restaurant Workers Community Foundation. As much as this is about raising money, this is also an exercise in awareness so that local communities can understand how daily life has been upended for those that rely on social gathering to make a living.
At the end of the day, this is about what it's always been about—community. While we may not be able to come together in person right now, that spirit can never be taken away from us. If we do our part to protect and support each other, that spirit can actually be strengthened.
Be safe, be good to one another. We're here for you.
—
Sam, Matt, Andrew
Other Half Brewing Co
WANNA TRY ER' OUT?
USE OUR BEER FINDER TO LOCATE THE RETAILER NEAREST YOU