Announcing John Mitchell Signature Cascadian Dark Ale
HONOURING CANADA'S ORIGINAL CRAFT BREWER
A special new commemorative beer is brewing! Forty years after craft beer was first officially served in Canada, BC's Russell Brewing Co. is set to release John Mitchell Signature Cascadian Dark Ale.
The beer has been brewed in collaboration with staff, students and alumni from Kwantlen Polytechnic University (KPU)'s Brewing & Brewery Operations Diploma program, in order to raise funds for a cause that directly benefits the BC craft beer movement: a brewing school scholarship in Mitchell's name.
The project was initiated by, and has the approval of, John Mitchell's longtime associate John Ohler. Before Mitchell's passing in 2019, Ohler was formally entrusted to act as Steward of Mitchell's craft beer legacy. This first fundraising project is also a means of introducing newcomers to the Grandfather of Canadian craft beer.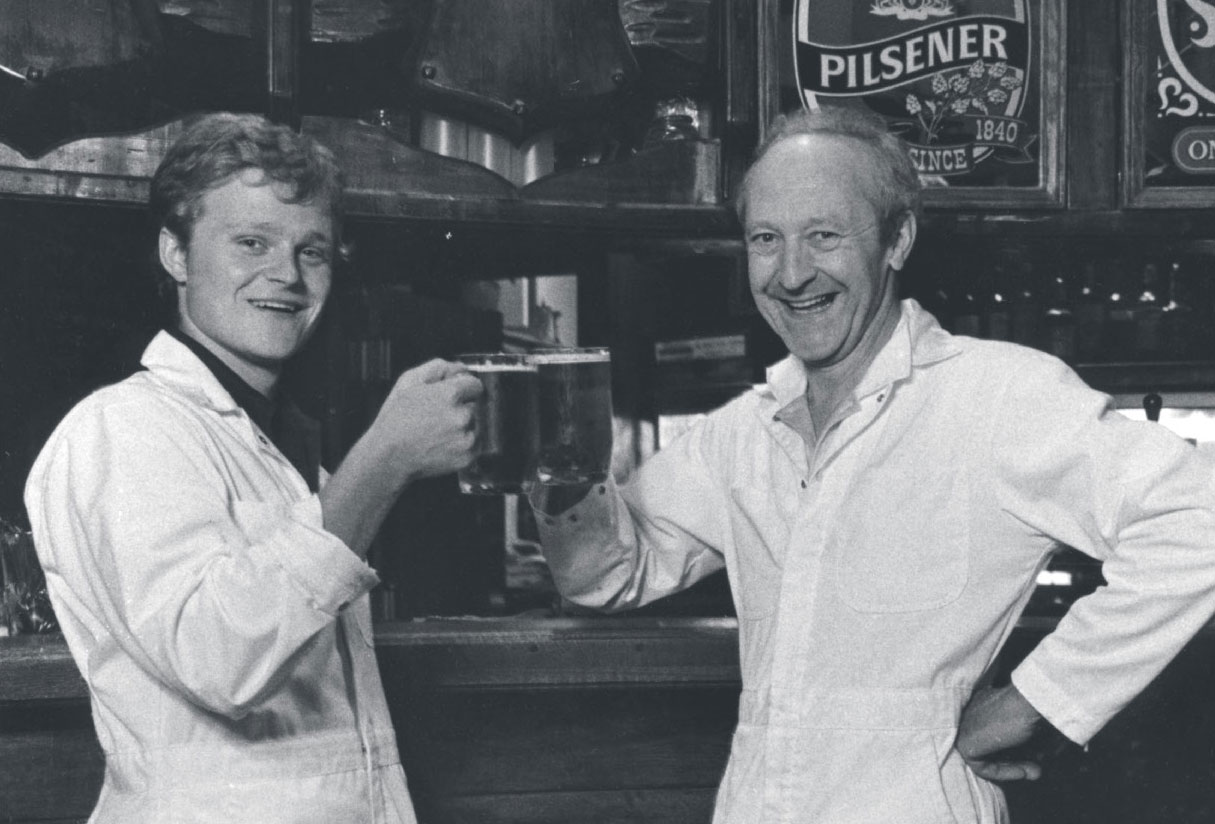 CHEERS TO FORTY YEARS
In 1982, Alexander John Mitchell sparked a national beer revolution by founding Canada's first craft brewery at Horseshoe Bay, BC. By spurring needed changes to legislation, Mitchell and his partners spearheaded an economic and cultural awakening in Canada's brewing industry. From that one pioneering location, the Canadian craft beer industry has now grown to boast over 1000 enthusiastic breweries.
As of today, June 17th 2022, it has been exactly four decades since Mitchell's first Horseshoe Bay Brewing creation, Bay Ale, was sampled by a select few at Mitchell's nearby Troller Pub.
Next month, on July 6th, it will be 40 years to the day since the ale was first served to the general public, officially birthing Canada's craft beer era. In celebration, a special beer release ceremony will be held at Russell Brewing's soon-to-be-opening tasting room in Surrey.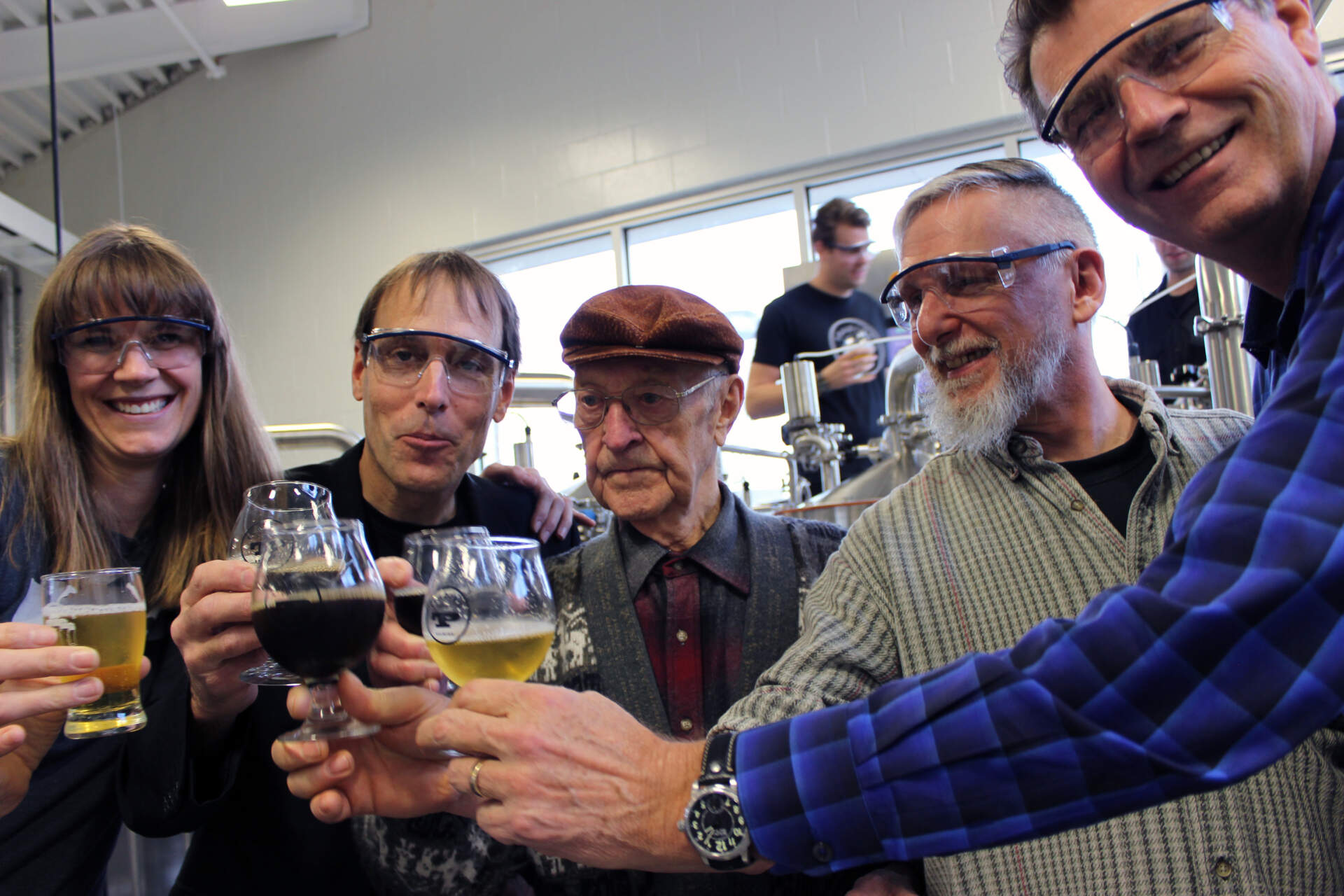 PAYING IT FORWARD
Proceeds from the new John Mitchell Signature Collaboration will benefit the John Mitchell Legacy Endowed Scholarship, open to students in the Brewing & Brewery Operations Diploma program at BC's Kwantlen Polytechnic University. KPU's program was of particular significance to John Mitchell, who personally visited its Langley BC–based facility in order to meet students representing the future of brewing excellence. The current scholarship was established in 2019, after the passing of its trailblazing namesake.
"This John Mitchell 40th anniversary collaboration highlights the legacy that John created for craft breweries and brewers in Canada," remarks Dominic Bernard, instructor and chair, KPU Brewing and Brewery Operations Diploma program. "He paved the way for the industry to become what it is today and for our students to have the opportunity to follow in his footsteps and choose a career they're passionate about. It's an absolute honour for KPU to be involved with this special project and exciting to see so many of our brewing alumni participate in this historic collaboration."
With four KPU alumni and students on staff, Russell Brewing was the ideal choice to serve as home base for this special fundraising project, and was indeed recommended by KPU for the honour.
THE BEER
The brew day result will be a delicious Cascadian Dark Ale incorporating two things John Mitchell loved: Northwest-grown hops and a darker malt bill.
Of the new beer recipe, KPU alum Mark McBride reveals that he wrote it taking inspiration from Mitchell's ESB recipe, as well as Mount Tolmie Dark Ale from Mitchell's time as founder of Spinnakers Brewpub. "Combining these elements," McBride notes, "We decided it would be a cool idea to brew a CDA."
Head Brewer Graham Kenny confirms, "We had access to John's old brew sheets from Horseshoe Bay Brewing and had a look at his first-ever brew sheet. We took notes and guidance from that in creating this beer."
Kenny points out the use of whole leaf Cascade hops in the brew for tradition's sake. "They weren't the easiest thing to track down," he shares. "I managed to get some shipped up from Yakima Chief Hops and they were fun to brew with." No doubt John Mitchell, always a fan of whole hops, would have approved.
This Cascadian Dark Ale features roasted and crystal malts, whole-leaf Cascade hops, and the same yeast strain John used 40 years prior.
Pleasant aromas of roasted malts are met with floral and citrus hop character. Subtle flavour notes of chocolate and dark fruit are balanced with a full body and slight creaminess.
Liquor Stores
Brewery Creek Liquor Store
Cascadia – Colwood (195066)-LRS
Cascadia – Crown Isle (195449)-LRS
Cascadia – Langford-LRS
Cascadia – Quadra Village (195499)-LRS
Cascadia – Uptown (195491)-LRS
Cascadia Liquor Parksville
Cascadia-Nanoose Bay
Central City Liquor Store
Central City LRS (BRIDGEVIEW)
Clayton Liquor Store
Legacy Liquor Store
Liquor Express – Harris Green (195360)
Liquor Plus – Duncan
Liquor Plus – Royal Oak (195322)
Liquor Plus – Saanich Centre (195305)
Liquor Plus-Courtenay
Liquor Plus-Harewood Arms (Nanaimo)
Liquor Plus-Hillside (195319)
Local LRS – Coquitlam
Logan's LRS
Maude Hunters Cold B&W
One 20 Liquor Store
Russell Tasting Room
Six Mile Liquor Express
Spinnakers (195209) Vic West
Spinnakers at James Bay
Spinnakers Brew Pub & Guest Houses
Squamish LRS
Swiftsure Beer, Wine & Liquor
The Landing LRS (Island)
Vessel Liquor Store
On Premise/Breweries
Barley Merchant Tap Room
Bomber Brewing
Cinema Public House
Dead Frog Brewery
Drake Eatery
Faculty Brewing
Farm Country Brewing
Five Road Brewing Co.
Flashback Brewing
Hawthorne Beer Market Bistro
Mariner Brewing
Off The Rail Brewing Co.
One 20 Pub
Parallel 49 St. Kitchen/Brewing Co.
Parkside Brewery
Patina Brewing Co.
R & B Brewing
Smugglers Trail Brewing
Spinnakers Brew Pub & Guest Houses
Steel & Oak Brewing Co.
Strange Fellows Brewing
Vancouver Craft Beer Week
Vancouver Island Brewery